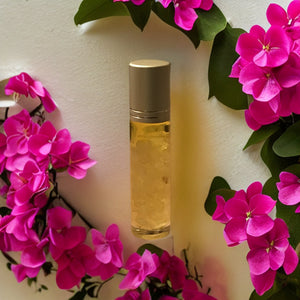 Sacred Rose Perfume Oil, presented in a beautiful Rose Quartz Roller Bottle and Ritually Empowered for Self Love and belief in your own worth.
Karen Hansen's Signature SELF LOVE empowerment blend, with pure essential oils of Frankincense, Geranium and Palmarosa - supported by notes of Rose Anatolia. 


Created in very small batches in line with the energy of earth, spirit and sky. Charged under the moon, with herbs, heart centred prayer and ritual.
This Enchanting Sacred Rose Perfume is 'Carried in a carefully crafted blend of Olive, Rosehip and Argan Oil. 


10ml Roller Bottle, includes Rose Quartz Chips - presented in gold keepsake pouch.