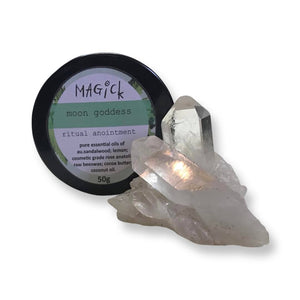 Just because you're skyclad under the full moons silver light, doesn't mean you can't wear the sexy energy of this Anointment.
After purification, and maintaining a meditative state - starting at the crown, rub this nourishing and heavily scented balm into your body to assist in ritual connection with the moon.
Empowered in circle for purpose, and based upon an old magickal recipe, using pure australian sandalwood, lemon essential oils and rose cosmetic.
Contains Raw NZ Beeswax. Vegan substitute available upon request.