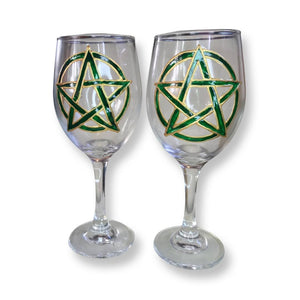 This pair of glassware is beautifully hand-painted in Rotorua, New Zealand by Artist Karen Hansen (Daniels) and carries a lovely aura.
Perfect for your display cabinet, altarcraft, witchy gift-basket or night in.
Artist Karen Hansen (Daniels) uses only high-quality french glass stain, which looks wonderful in the light. The paint is durable, three-dimensional, and if well looked after, will last for many years - unlike the cheaper alternatives such as vinyl cutting. There is no comparison in quality and energetic value.
The price is for two cypress green and gold pentacle wine glasses. Other colorways are available upon request if you have another preference.