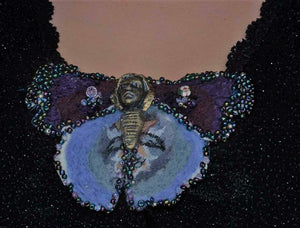 Beautiful, painstakingly hand beaded with glass, and needfelted with merino, lace and 200 year old silk (hand made and dyed with indigo by Karen's Ancestors)
this stunning piece is one of a kind by Artist Karen Hansen (Daniels).
She is part of Karen's EXQUISITE CORPSE Collection, which explores misplaced aspects of her environment and nature. co-creating pieces with the universe in unexpected ways, and uses some wool elements developed during the final year of Karen's bachelor degree.
It is strongly influenced by the Art Nouveau movement of the early 20th Century.