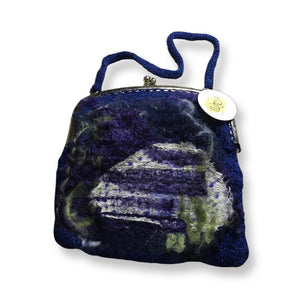 Subconscious - 2019
This stunning piece was developed in 2019 during the graduate year of Karen Hansen's Art Degree. Karen loves to push materials in her work and often achieves unique effects with fearless experiementation. This was one such art achievement.
The main abstract needlefelt applique here is a blend of Merino wool, and 250 year old indigo handmade and dyed silk from denmark - which has been pushed with the needles time and time again until the fragile indigo silk melts through the cream layer like watercolour.
A fine and delicate effect. One off designer art accessory - wear your art!