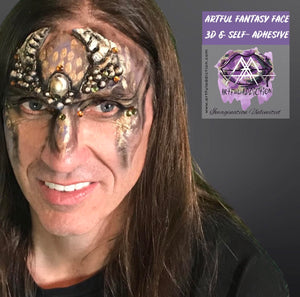 Create amazing fantasy face art, with a few simple instructions, and a specially prepared kit from the  studio of Artist Karen Hansen.
Easily Peel and Stick the 3D Fantasy Elements, which are hand formed and individually painted by the Artist on skin safe medical grade adhesive. Leave as beautiful and simple as that, or add additional detailing with provided instructions, body art pigment and stencil. 
Photo of Model is illustrative of finished product only, as applied by Karen herself. Your results will differ slightly due to the nature of your own application style.
These kits are specially designed to be beginner friendly, no experience necessary, to create the look and feel of a Karen Hansen Creative Fantasy Makeup in the comfort of your own home. 
Karen's  Fantasy Makeup slots sell out whenever she releases them, and she has a long waiting list for service at events. Now you can experience Karen's gentle guidance, and collaborate with her to acheive these incredible looks yourself - best of all, the pieces are re-useable if you look after them