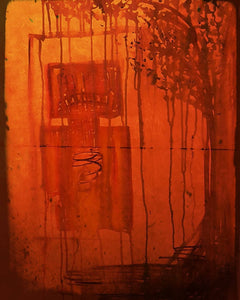 DO NOT LIGHT (2019) - CANVAS ART PRINT
200 X 300 MM
Hand signed and numbered, on box canvas - limited edition.
Do Not Light is a 20x30cm print of the first Bath Painting, yes, painted naked - sitting in the ritually conductive energy of warm water, similar to being in the womb -  by NZ Fine Artist Karen Hansen.
Using wet on wet technique, the original was painted by Karen's inner child, who was very afraid of this Robot. She had a recurring dream of it when she was 4-6 , always hunting her. After finishing this watercolour she was so disturbed that her heart beat fast for what felt like half an hour. She could not deal with the original painting , so gave it a digital makeover which allowed her to take a step back and sit with it's secrets.
Please allow between 5 and 10 working days from payment to shipping