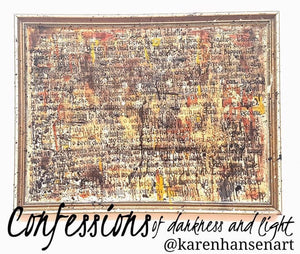 Karen Hansen (2019) 'Confessions of Darkness and Light'
Acrylic, Earth Pigment, Ink, Rose Petals.
Developed during the final year of Karen's Art Degree. Confessions of Darkness and Light is part of Karen's graduation collection/exhibition, the culmination of two years social research into how we are all dealing with our own Taniwha; emotional monsters who are both caretakers and destroyers- and how by dealing with these darknesses, we move forward into light.



Karen ended up with 120 individual statements of trauma and wisdom the community shared with her. Here, some of them are inked messily and hard to read, using religious gothic blackletter which will partially fade over time both things as within ourselves. What Karen found, was that although the paths of difficulty, strife and darkness were many, so diverse, .. the light lessons people gained were all the same.
This is enlightenment in action. By facing our shadows and doing the hard Mahi (work), we find the light