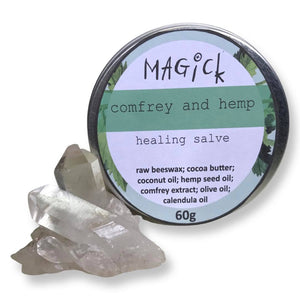 The incredible strength of Comfrey ( folk name bone-knit) melds against pain, bruises and abrasion in a power-couple with hemp oil , which these days seems to need no introduction ( But in case you need one, it is said to reduce inflammation, hydrate, regulate oil production, making it the perfect oil for any skin type and accompaniment)
the third wheel in this relationship, is Calendula extract, a superhero of skincare in it's own right.
It is advised to be cautious in using this on open wounds, as comfrey can heal so fast it has trapped dirt or other impurities under the new skin - it has also been known to heal the top layers of deep wounds but not the deep tissue due to speed. Use with wisdom.
Contains Beeswax. Vegan Alternative Available upon request.