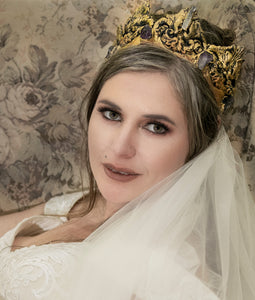 This stunning crown is made by hand to pre-order by New Zealand Artist and Designer Karen Hansen (Sculptural Headwear) in her Rotorua studio. Please allow 20 working days from payment and head measurement to completion.
Rough Set Crystals can be customised, however price may vary slightly depending on expense of raw material. Each crown has Seven Semi-Precious stones inset.
The material is a fine Thermoplastic (Worbla Black Art) which has the texture and look of metal, but light on your head. Please do not expose to extreme heat.
She secures into your hair with metal millinery combs.
Model: Karen Hansen
Photo (cropped from original by Steve Brown).