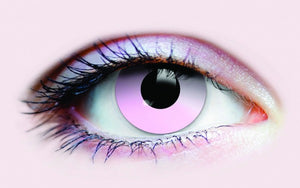 Our Primal Lenses are of high quality- researched, developed and manufactured in Canada. Primal Lenses are the perfect addition to any costume or alternative fashion outfit for any reason. Dress your eyes to impress... or terrify!

Sizing/Fitting: Diameter 14.5 mm / Base Curve 8.8 mm 
Usage/Wear: 5 years shelf life / 90 days usage 
Material: 62% Polymacon / 38% Water
Comes with FREE CONTACT LENS STORAGE CASE
FDA Approved Product. This product is compliant with International Quality Standards that apply to Contact Lenses.
PRIMAL® Coloured Contact Lenses is a Canadian company specializing in the manufacturing and distribution of costume and cosmetic coloured contacts. We apply our expertise in research, design and technology to produce a colored lens that is exceptional in both quality and comfort. Our research and development team carefully selects each pigment according to various criteria such as the level of opacity and the ability of the lens to mimic the eyes natural colors.
Please Read our Contact Lens Usage Precautions before purchase:
Use ONLY appropriate contact lens disinfecting solution and case.

Use for a maximum of 8 hours per day.

Use for a maximum of 3 months.

Clean your PRIMAL Contact Lenses and case every two days even when not in use and additionally before each use.

Use ONLY appropriate contact lens disinfecting solution and case (SOLUTION IS AVAILABLE FROM YOUR CHEMIST OR OPTOMETRIST)

NEVER share your contact lenses.

NEVER sleep while wearing PRIMAL Contact Lenses.

PRIMAL Contact Lenses are intended for customers 16 years of age or older. Parental Advisory is recommended.

NEVER wear damaged or unclean contact lenses

If you require the use of eye medication NEVER wear PRIMAL Contact Lenses.

NEVER drive while wearing certain designs such that hide, shrink or alter the shape of the pupil.

DO NOT wear PRIMAL Contact Lenses if you've had laser eye treatment unless you've had a lens fitting by a licensed Optometrist.

NEVER use anything other than fresh sterile disinfectant contact solution. Never use saliva or water.
Liability Statement.
ARTFUL ADDICTION Takes no responsibility for the use of or inability to use these lenses. Consult with an optometrist before use if you are concerned. Failure to use lenses properly can result in a serious eye infection.
No returns or refunds accepted on Contact Lenses for hygiene purposes.