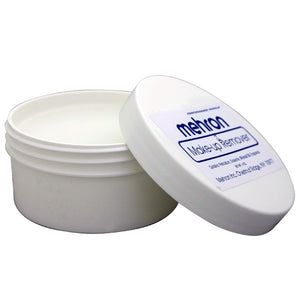 Mehron Make-Up Remover Cream Treatment has been used for decades by mimes and clowns to remove their grease painted faces after a long performance. Mehron Make-Up Remover Cream Treatment has been expertly formulated to have quick penetrating properties that will non-abrasively remove cream and greasepaint makeup. This fine cleansing cream treats your skin to a moisturizing treatment while you easily remove even the heaviest of makeup applications.
Professional Performers have relied on Mehron Make-Up Cream Treatment to remove their Theatrical Makeup for decades. Mehron, the Leaders in Theatrical Makeup since 1927 provides the makeup to the stars ... just like you.
How to use this product:
Apply Makeup Remover Cream directly onto the skin. Gently rub with fingers or washcloth and rinse with soap and warm water.
All Mehron products are cruelty-free and never tested on animals. All ingredients used in the manufacturing of Mehron products are also guaranteed to be cruelty-free.