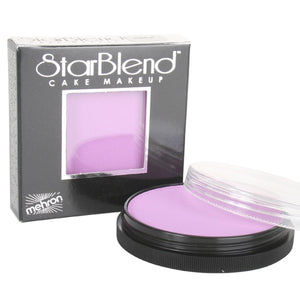 With over eight decades researching and formulating cake makeup Mehron has made the ultimate in Cake Makeup.
StarBlend™ is fade resistant, perspiration resistant and non-streaking, everything that a performer needs under the hot lights. The last thing a performer needs to worry about is the performance of their makeup.
StarBlend™ is the preferred cake makeup of Makeup Artists throughout the entertainment world. This uniquely blended Cake Makeup provides exceptional coverage and blends easily with an effortless application.

StarBlend™ is in powder form and creates beautiful shading over other face and body paints or can be built up and blended as a base. StarBlend™ can be used wet, but once the cake has been wet once it can never go back. We recommend using a scraper and removing a little powder from the cake and wetting in a separate container if you would like the heightened pigment look.