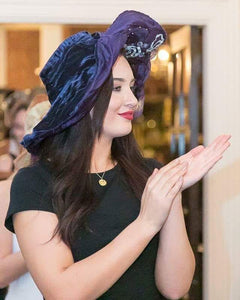 From Designer Karen Hansen BaCT (Rotorua), comes a collection of fine art headpieces and hats.
Celebrity owners of Karen Hansen Millinery include Burlesque #1 in the world, and darling of New York City Dirty Martini
This piece features silk handmade by the artists' 2 x great grandparents in Denmark. It has been handbeaded with glass, and radial symmetric ripples.
Photo: Jacqui P. Thomas
Model: Kaitlyn Roberts