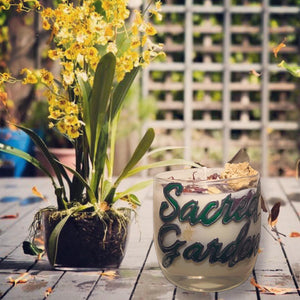 This Sacred Garden Hand-Poured Artisan Candle is ritually empowered with energy for coming into your personal power, co-creation, sexuality (fertility also in all your endeavours) and the soft yet immeasurable strength of the feminine
luxurious 300ml  candle, hand-painted (by Artist Karen Hansen) vessel with French glass stain, pure soy wax , and 7.5mls of pure sandalwood, ylang ylang, palmarosa, geranium, lemon and Vetivert pure essential oils.
Even more special and beautiful, are the dried florals and herbs within, originate at this stage from the artists marriage collections adn foragings. They were part of a powerful unity ritual which was enacted to ripple out into the world from the ancient forest of Okataina Super Volcanic Caldera.
These are limited, very small batch due to high production cost,

This is a Ritually Empowered Candle, Not intended for standard scent burning use (Burning without your added focus will largely waste the powerful energy release)
Comes boxed with Magick Spell / Intention instructions
(((Blessed Be)))