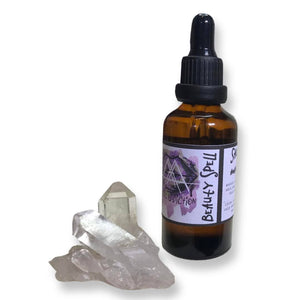 A nourishing and skin blessing formula, to anoint your skin with daily as you visualise and remember that YOU ARE LOVE. 
Based with Argan Oil, which your skin and hair delights in - this Goddess like scent is also carried in Jojoba.
Pure essential oils of Frankincense, Geranium and Palmarosa consecrate and soothe (your body is a temple, remember), whilst having antimicrobial / antiinflammatory properties (great for problem skin) and anti-aging effects;  improving elasticity. Frankincense in aromatherapy and natural health is known as a mood enhancer - said to relieve anxiety. Palmarosa is known also for healing broken capillaries and reducing redness. 
Calendula and Rosehip oil doubles the soothing power, with added healing strength for minor cuts, acne, and irritations and sensitivities. Rosehip oil in particular, has been prized since ancient times for it's healing and skin regenerative properties. It is said to reduce fine lines and  is loaded with skin-nourishing vitamins and essential fatty acids. It also contains phenols that have been shown to have antiviral, antibacterial, and antifungal properties.
Magick.